Universal Rights of the Reincarnating Man - Lucifer, the Light-bringer - No. 1 - 2016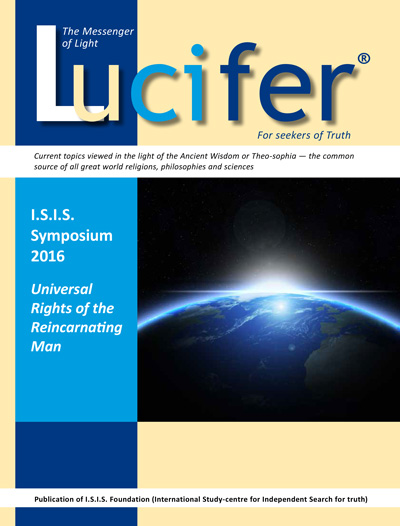 The universal declaration of Human Rights and other universal values are accepted largely throughout the different nations in te world. Nonetheless they are violated very often on a smaller or larger scale.
The deeper our understanding of the Cosmic Laws, the fundamental unity of the cosmos and ourselves as reincarnating beings, the better we will understand the Universal Declaration of Man morally and will act accordingly.
We are glad to present to you the first issue of 2016 of our magazine Lucifer the Light-bringer .
This issue is the report of the Symposium Universal Rights of the Reincarnating Man held in May 2016 in The Hague, The Netherlands.
Questions that are addressed: What are the Rights and Duties of the Reincarnating Man? Is it possible for humanity to live in peace and harmony? To what extent do human laws reflect the Cosmic Laws? What will the world look like when we, as a human beings, learn to cooperate with the Cosmic Laws?
We look forward to your questions and comments!
The editors of Lucifer, the Light-bringer
This digital magazine is published a couple of times a year. Are you interested in receiving following issues of Lucifer (free of charge), please subscribe by sending an e-mail to lucifer.red[at]isis-foundation.org*.
*) Replace [at] with @.
Posted by blavatskyhouse on 06/11/16 at 03:52 PM in
Magazine
•