The spiritual function of art and design - Sunday February 11
Sunday February 11, 14:00 (doors open at 13:30) - Blavatsky House, De Ruijterstraat 74, The Hague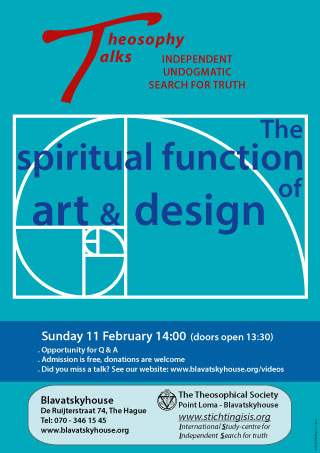 What is the secret of music? Why does a certain type of music move you? Or why do certain structures, sculptures or paintings bring you into a different sphere?
In abstract art, we do not recognise anything of the visible world surrounding us. What is its purpose and what is it the artist is trying to express? Are we able to recognise the universal symbolism in certain works of art? And is it possible for art to perform a spiritual function? Discover the world behind art and design.
Look at art in a different light and join the Theosophy Talk on 'The spiritual function of art and design' on Sunday February 11th.
Posted by blavatskyhouse on 16/01/18 at 08:23 PM in
Events
•