The esoteric origin of human rights - Lecture May 8th at 14:00
THE HAGUE, Blavatskyhouse, De Ruyterstraat 74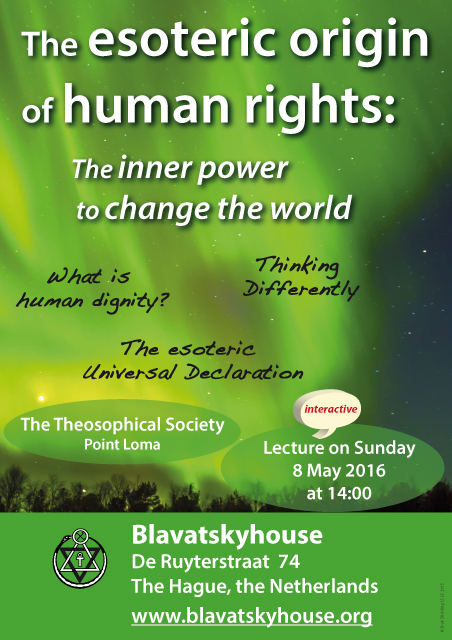 On May 8th, the fifth lecture of our series of five English lectures will start at 14:00 in the Blavatsky House in The Hague.
For more than half a century we have a universal declaration of human rights. However, the application of these rights is far from universal in our world. What could be the cause of this problem and more important: what can we do to solve this?
To understand this problem we have to ask ourselves: What is universal? What are rights? Why are rights necessary?
Like the old sages, such as Lao-Tse and Plato, we can try to take a look beyond outer appearances.
In this lecture we will try to uncover the esoteric or hidden origin of human rights and find the universal Laws of Nature on which they are based. It leads to the inner power that the old sages discovered in themselves to change the world. The inner power that we can find and apply in our daily life to bring the world a step further to what it can be.
Posted by blavatskyhouse on 29/04/16 at 12:15 PM in
Events
•