Plato: founder of a Mystery School - Theosophy Talk Sunday April 9
His significance for our present day and age
THE HAGUE, Blavatskyhouse, De Ruijterstraat 74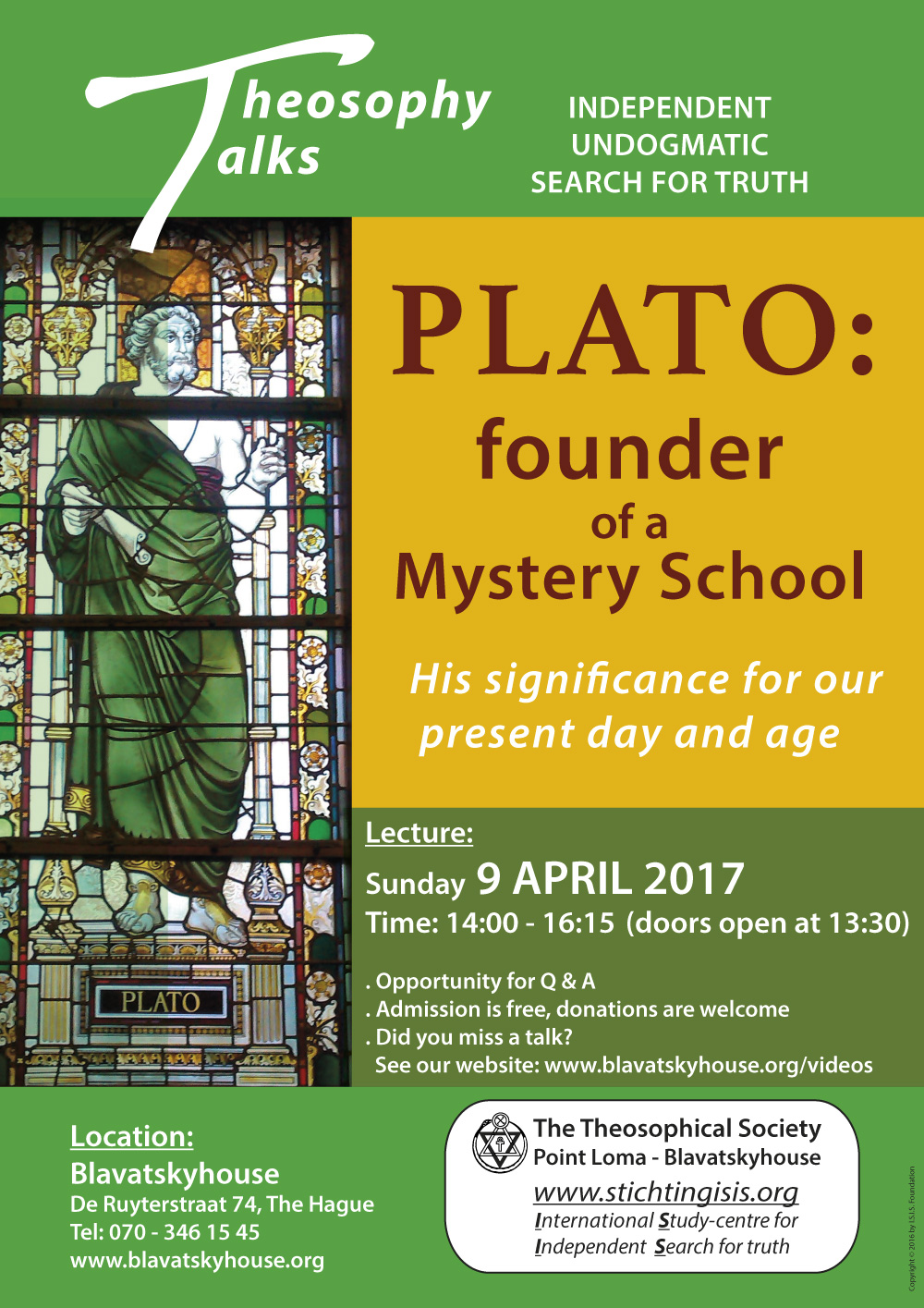 On Sunday April 9th, the sixth talk of our series of eight English Theosophy Talks will start at 14:00 (doors open at 13:30) in the Blavatsky House in The Hague.
Plato is still one of the most famous and widely read philosophers. He was not afraid to deal with the big questions of life. In his dialogues the quest for the Beautiful, the True and the Good is central.
Now, two-and-a-half millennium later, this quest is for many still unsolved. Many people are stuck in the bustle of everyday life and are ruled by the outer phenomena of this world. Depression is becoming more common despite the "progress of modern society." Some people have even become cynical concerning the possibility whether we can even find answers to life's questions at all. Can Truth be found? Does universal goodness or justice exist? Is there an origin and destiny for man?
Nowadays we are still struggling with the questions posed by Plato. However, his answers remained hidden to a large extent. Plato's dialogues are full of metaphors, myths and mysticism. Not without reason, because Plato, initiated into the Mysteries of ancient Greece, was bound to secrecy. Behind the walls of his Academy, he entrusted only his intimate disciples the teachings of the Mystery Schools. Teachings that could provide a complete answer to life's questions.
From 1875 much more of this knowledge is made publicly. It enables us to examine Plato's message again, learn to understand it and its significance for our time. His teaching offers insight on current issues from politics to education, from love to justice, from knowledge to virtue.
Posted by blavatskyhouse on 19/03/17 at 05:43 PM in
Events
•