Learning from the embryo - Theosophy Talk Sunday October 8
THE HAGUE, Blavatskyhouse, De Ruijterstraat 74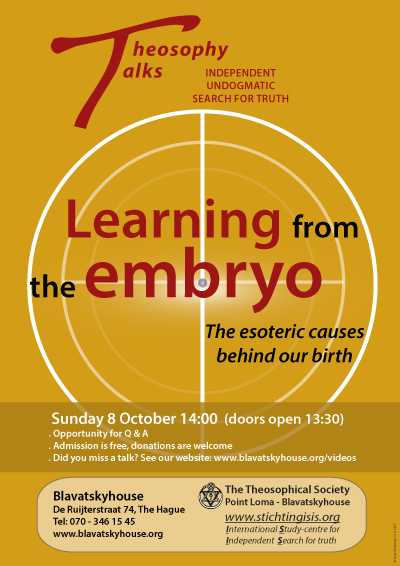 On Sunday October 8, the first talk of our series of English Theosophy Talks will start at 14:00 hrs (doors open at 13:30) in the Blavatsky House in The Hague.
For most people, the development of a human embryo is an intriguing process. It evokes fundamental questions like: what is the cause of this orderly succession of phases, which are all directed to one goal? What is the relation with the human soul, the consciousness of the embryo?
According to Theosophy, our physical body is our most material "coat". But, according to the principle "as above, so below", this material instrument must reflect the spiritual, mental, psychical and astral nature of the human being. Therefore, we can learn a lot by looking at a growing embryo in the light of Theosophy.
In this lecture, we will also go into subjects like DNA manipulation and cloning. For all these technologies there is a great need to know what the consequences of these technologies are. Only by obtaining more knowledge of the fundamental causes, we can make responsible choices.
Posted by blavatskyhouse on 07/10/17 at 11:46 AM in
Events
•