Great Sages on great ideas - Sunday March 12 2017
THE HAGUE, Blavatskyhouse, De Ruijterstraat 74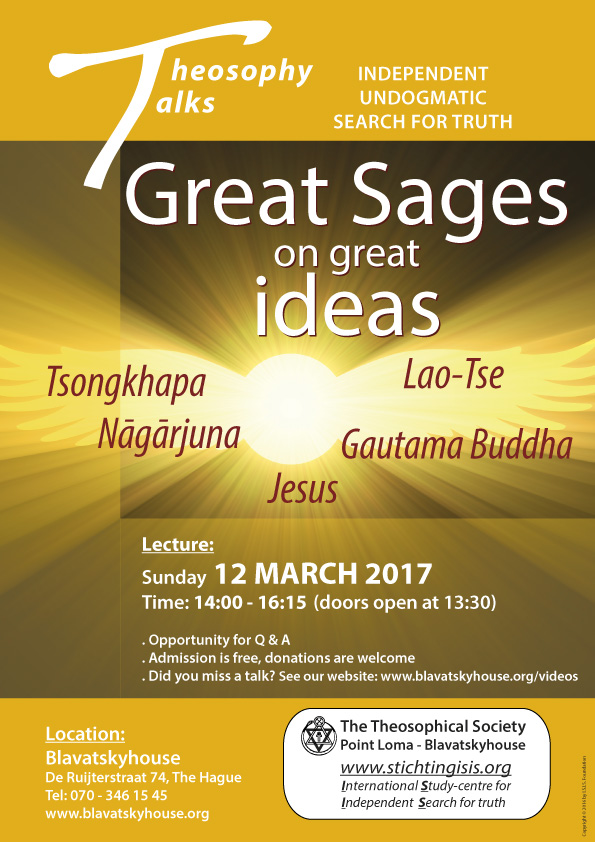 On Sunday March 12th, the sixth talk of our series of eight English Theosophy Talks will start at 14:00 (doors open at 13:30) in the Blavatsky House in The Hague.
In this talk we explore the inner and practical significance of the great ideas of spiritual teachers as Gautama the Buddha, Lao-tse, Nāgārjuna from India, Jesus and Tsongkhapa of Tibet. All these Great Sages taught humanity the Theosophia, Universal Wisdom, be it always dressed in a form that suited the culture and time in which they lived. Our current major religious and philosophical systems all have their origin in the Theosophia. The source of wisdom is as old as we could possibly imagine.
Periodically the great Sages made attempts to bring parts of it to their fellow man, since they have a great need for answers to their life questions, their questions about God and gods, virtue, the meaning of life and compassion. This talk is of great importance for current issues. Think for example of the direct consequences of these great ideas on the application of human rights.
Posted by blavatskyhouse on 17/02/17 at 04:40 PM in
Events
•