First Portuguese edition of Lucifer, the Light-bringer!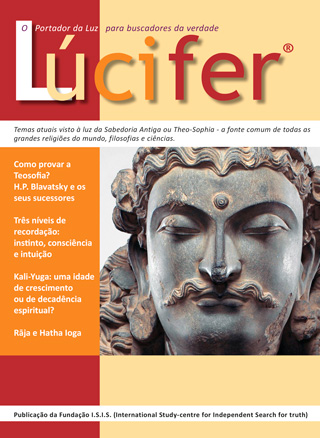 We are glad to present to you the first Portuguese edition of Lucifer, the Light-bringer. In the preparations of a series lectures that Barend Voorham will give in Brasil this July, Barend - also editor of Lucifer - translated a series of articles in Portuguese for this special occasion.
For our Portuguese friends we have the following articles:
Introdução br> Lúcifer, o Portador da LuzEdição especial
Como provar a Teosofia? br> H.P. Blavatsky e os seus sucessores
A Teosofia não é uma religião. E certamente não é uma crença. Todos os líderes teosóficos, enfáticam e repetidamente declararam que deveríamos investigar a Teosofia por nós próprios. Mas como? E como sabemos que é verdade? Se não temos que depositar uma fé cega nos líderes teosóficos, então que papel desempenham eles?
Barend Voorham
e Herman C. Vermeulen
Três níveis de recordação: instinto, consciência e intuição
A consciência composta do ser humano pode clarificar o mistério da memória.
Barend Voorham
Kali-Yuga: uma idade de crescimento ou de decadência espiritual?
Vivemos tempos de inquietude. De acordo com algumas pessoas os tempos são tão negros e sinistros, que estamos caminhando rapidamente para a nossa perdição. "Vivemos no fim dos tempos", dizem as pessoas. Diz-se que isto está relacionado com o Kali-Yuga, a Idade do Ferro. É na verdade o Kali-Yuga uma idade tão negra?
Esta é uma investigação aos antigos textos hindus e à nossa era moderna.
Barend Voorham
Râja e Hatha Ioga
Para a maior parte das pessoas no mundo ocidental a prática do ioga é uma forma popular de exercício físico e de controlo da respiração. Este sistema particular de ioga é conhecido como Hatha Ioga. Contudo, existem muitos outros sistemas de ioga, como o Râja Ioga. Este artigo debruça-se especialmente sobre estes dois – por vezes contraditórios – sistemas de ioga.
Barend Voorham
Fundação I.S.I.S. e o curso Pensar Diferente
The editors of Lucifer, the Light-bringer
Posted by blavatskyhouse on 02/07/16 at 05:27 PM in
Magazine
•