Compassion: beyond meditation and mindfulness - Sunday 13 November 2016
THE HAGUE, Blavatskyhouse, De Ruyterstraat 74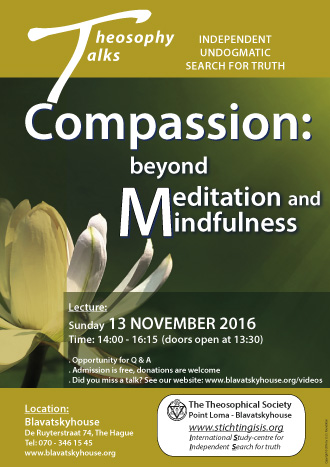 On Sunday November 13th, the second talk of our series of eight English Theosophy Talks will start at 14:00 (doors open at 13:30) in the Blavatsky House in The Hague.
Meditation and mindfulness are often related to spirituality. But do these methods make us more spiritual? And can we help others by doing this? Is it an end in itself or a means, and if so for what purpose?
If we look at the traditions from which these methods came, they are always used in service of alleviating suffering in the world, i.e. compassion. Compassion has always been the only reason for existence of every true spiritual impulse.
This lecture will focus on how we can truly help to alleviate suffering in the world.
Posted by blavatskyhouse on 14/10/16 at 05:23 PM in
Events
•