Compassion and responsibility - Lecture April 10th at 14:00
THE HAGUE, Blavatskyhouse, De Ruyterstraat 74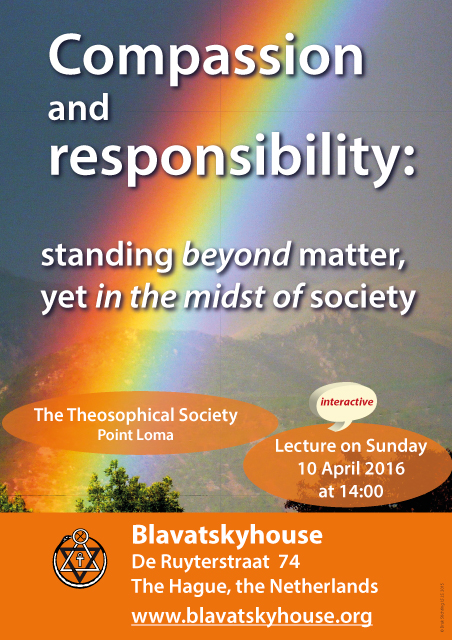 On April 10th, the fourth lecture of our series of five English lectures will start at 14:00 in the Blavatsky House in The Hague.
Are we human beings nothing more than thinking animals, as many people still think, following the theories of Darwin and his scientific successors? In the Universal Wisdom or Theosophia we find key thoughts that give us a completely different view on Man and the Cosmos, yet in line with all the proven facts of present-day science.
This lecture will help you to build up a clearer understanding of our spiritual roots, and to find answers to urgent questions such as:
What is compassion? An emotional expression of pity when we see suffering in the world? Or something completely different, something much more inspiring and challenging?
And what is our responsibility, as human beings, towards our fellow men and towards everything else in the Cosmos? Does free will really exist? How do we develop our free will? And what can we do with these new insights in our daily life?
The lecture will supply to you important keys of wisdom ready to use immediately, proving the value of a truthful and peaceful life: when we try to stand beyond matter, yet in the midst of society.
Posted by blavatskyhouse on 24/03/16 at 10:11 AM in
Events
•