Can life be without prospect? - Theosophy Talk Sunday NOV 12
Sunday November 12, 14:00 (doors open at 13:30) - Blavatsky House, De Ruijterstraat 74, The Hague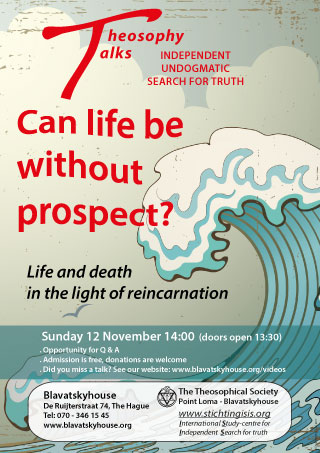 The doctrine of reincarnation is essential for a practical vision of life. This teaching explains us why the world is as it is and why every human being is confronted with his own individual challenges. Reincarnation is not a belief. It is rather a hypothesis based on reason and logic, that together with the doctrine of karma can solve every question in life.
In this series emphasis will be placed on the birth as well as the dying process. Regarding both processes scientific facts fit the concept of reincarnation extraordinarily well.
The teaching of reincarnation is not just dry theory. Put in the practice of everyday life you will come to very different solutions than are currently applied in society. If you apply the teaching of reincarnation to the question of 'completed life', and the idea that life can be without prospect, you will get to very inspiring views.
Posted by blavatskyhouse on 13/10/17 at 03:41 PM in
Events
•